Gary Alan "HOPPY" Hopkins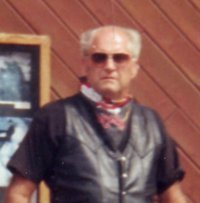 Gary Alan Hopkins, 68, of Sturgis, SD, formerly of Woonsocket, SD, and Maringouin, LA, died January 20, 2015.
He was born in Minneapolis, MN, on May 13, 1946. January of 1947, he was adopted by Lionel and Eileen Hopkins. On January 21, 1951, his sister, Lynelle (Hopkins) Tornow, joined the family. Gary graduated from Shady Grove High School in 1964 in Rosedale, Louisiana. After graduation he went to work with his father, bee keeping which they traveled with the business between Minnesota, Mississippi, and Louisiana. In the 1960's the bee business brought them to Woonsocket, SD. On November 25, 1967, he married Marvyl Ann Haugen in Woonsocket. He was involved with different activities and hobbies. He also had two brahma bulls, one he could ride and the other one would come running to lick him on his face. He enjoyed team roping as he owned many horses growing up. His true love were motorcycles, he raced them and won many trophies doing so. He also was a great pool shark and won many trophies. He was part owner of a race car with John Fraser and the late Darrell Feistner. He loved to hunt all different game. On September 1, 1969, they were blessed with a beautiful daughter Melissa Ann Hopkins and on May 6, 1972, they had a handsome baby boy, Gary Ernest Hopkins.
He is survived by his daughter, Missy and her children, William and Breanna Brown, Arlington, TX; his son, Gary; his children, Abbee, Ranni, and Stefan Hopkins, Sturgis, SD; Allen Aldinger, Thief River Falls, MN; a sister, Lynnelle (Steve) Tornow, Sioux Falls, SD; a niece, Leslie Ohlrogge and family Woonsocket, SD; a nephew, Lincoln Feistner and family, Forestburg, SD.
He is preceded in death by his parents, Lionel and Eilene; grandparents; and numerous aunts and uncles.