Rhea G. Trevino
Rhea G. Trevino, 57, Deadwood, died Sunday, March 21, 2010 at Lead-Deadwood Regional Hospital in Deadwood.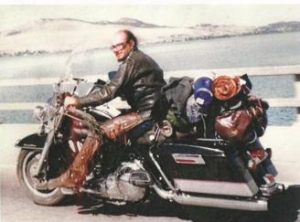 Rhea was born Sept. 1, 1952 to Noe and Beatrice (Gamboa) Trevino in Burkburnett, Texas.  He lived in Texas until moving to Aurora, Colo., for a short time attending school.  He then returned to Dallas, Texas, graduating from Kimball High School in 1972.  While living in Dallas, he met Betty Sundstrom, whom he married at Oak Cliff, Texas on May 18, 1974.  Rhea and Betty moved to the Black Hills in March 1975, where they started their business, Trevino's Leathers in Sturgis, which moved to Deadwood for a few years and stopped at their final spot south of Deadwood.  Rhea was a member of ABATE of the Black Hills and the Leather Crafters Guild.  He loved cross country skiing, golfing, riding motorcycles, and his work.  Most of all he loved his family, grandkids and dogs.
Rhea is survived by his wife, Betty; son, Eli Trevino; and daughter Leah (Troy) Shockey all of Deadwood; his parents, Noe and Bea of Dallas; his siblings, Martha (David) Wasserman of Dallas; Ricardo Trevino of Deadwood; Amanda (Mike) Drago and Patty (Manuel) Calderon both of Dallas.  Four grandchildren; Baylie Trevino, Addeline, Lange, and Joselyn Shockey.  He is also survived by his mother and father-in-law Juno and Elizabeth Sundstrom of Deadwood.  He was preceded in death by two brothers Tomas and Noel Trevino and one brother-in-law David Sundstrom.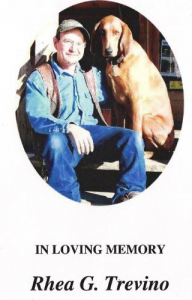 Rhea felt the following quote by Bob Dylan was how he lived his life.  "What's money?  A man is a success if he gets up in the morning and goes to bed at night and in between does what he wants to do."